Print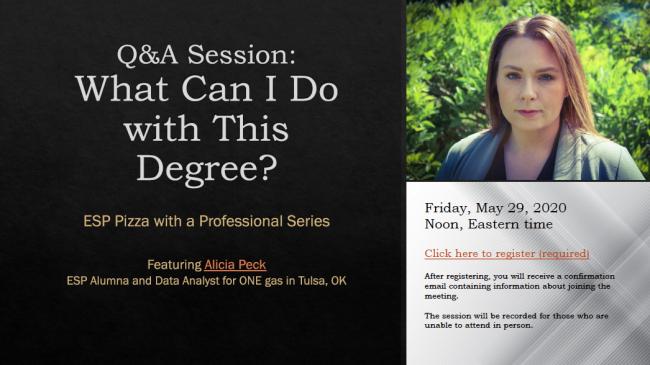 Click for text description. This will expand to provide more information.
Alicia Peck, ESP Alumna and Data Analyst for ONE gas in Tulsa, OK, will hold a question and answer session called "What Can I Do with This Degree?" as part of the ESP Pizza with a Professional Series. The Q&A session will take place Friday, May 29, 2020 at Noon, Eastern time. Visit
this Zoom link to register
. After registering, you will receive a confirmation email containing information about joining the meeting. The session will be recorded for those who are unable to attend.
---
Dear Students,
I hope you are doing well amidst the current situation with COVID-19 and are staying put, healthy, and positive! It is not an easy time for all of us – many people feel impacts from the pandemic, directly or indirectly. Many things we are used to at home, at work, and in our community have been disrupted, and that, understandably, creates a lot of anxiety. But I can assure you that the University works very hard at all levels to continue with its mission and to provide students with the best education and support.
As a World Campus program, ESP has everything in place to stay on track and to continue serving you through our online courses, advising, and communications to faculty. Our courses remain on schedule, and I encourage you to stay connected with your instructors and advisers about any issues impacting your studies.
The work you do right now to build your degree is as important as ever. The key issues of energy and sustainability are especially critical at this time as they are tightly related to our support systems, healthcare, communications, and everything that binds our society. You are working to become professionals in those key areas, and our ESP team is fully committed to helping you reach your goals.
Stay healthy, stay connected, and best wishes to you and your families!
-Mark Fedkin
ESP Program Lead Faculty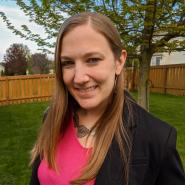 On April 28, 2020, Penn State's Faculty Senate passed a Climate Action Resolution that was put forth by Brandi Robinson, Faculty Senator and Assistant Teaching Professor in the ESP Program.
The passing of the resolution means that the Faculty Senate will request that university leadership develop a Climate Action & Adaptation Plan to strive to achieve "100% reduction in purchased electricity-generated GHG emissions by 2030" and that the university will reduce by 100% or more, by 2050, net GHG emissions "through direct mitigation activities, carbon sequestration, and offsetting opportunities." The resolution includes language for an increase in investment in solutions initiatives and for an increase in the identification of "courses of action to reduce the impacts of and [to] embrace the opportunities created by anthropogenic climate change."
Congratulations, Brandi!
---
Robinson, B. (2020). Faculty Senate Climate Action Resolution. Penn State University Faculty Senate website.
Program Information
ESPBA and ESPBS are both fully online degrees are offered by the Department of Energy and Mineral Engineering in the College of Earth and Mineral Sciences. The program is delivered by the College's Dutton e-Education Institute in cooperation with the University's World Campus.
The Bachelor of Arts and the Bachelor of Science in Energy and Sustainability Policy are both 120-credit programs, with the same General Education requirements and the same prescribed and additional coursework for the major. For a full listing of this common coursework, see Courses. The remaining requirements are specific to each degree, as described on the ESPBA and ESPBS pages.
All aspects of the program are carefully designed for online learners who require flexibility and are often managing full lives with career and family. Student advising is handled on a one-on-one basis, first-hand by faculty in the ESP program.
Both of the ESP programs' curriculum emphasize five competency areas:
Energy Industry Knowledge
Sustainability Ethic
Global Perspective
Analytical Skills
Communication Skills
In choosing which ESP program best meets your needs, students are encouraged to consider personal interests and strengths, professional aspirations, and plans you may have for graduate school. For those with prior learning experience, the applicability of earlier coursework to degree requirements may also be a consideration.