Print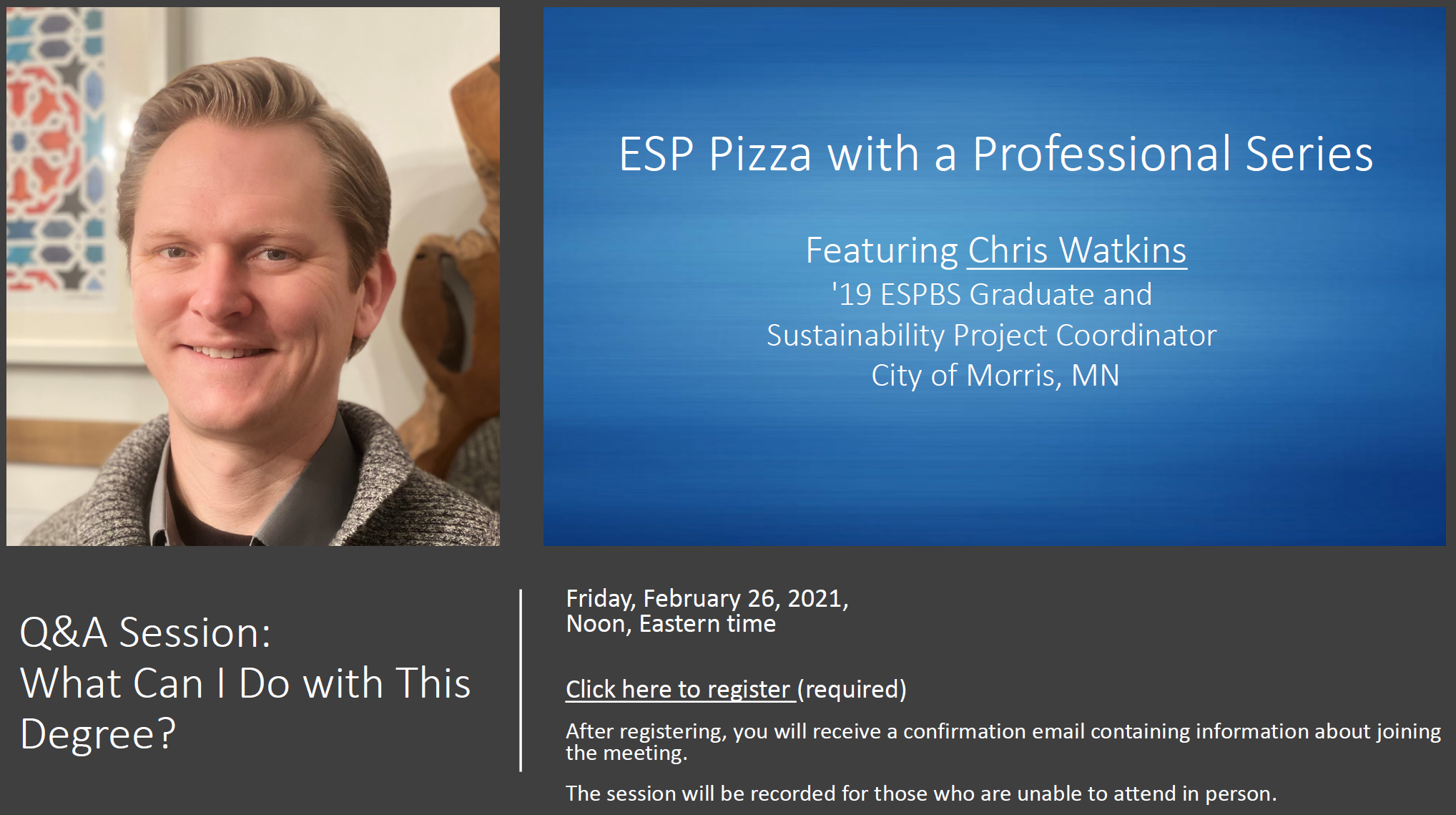 Click on the image above to watch the recording of the event (37 minutes).
---
Congratulations to ESP graduates!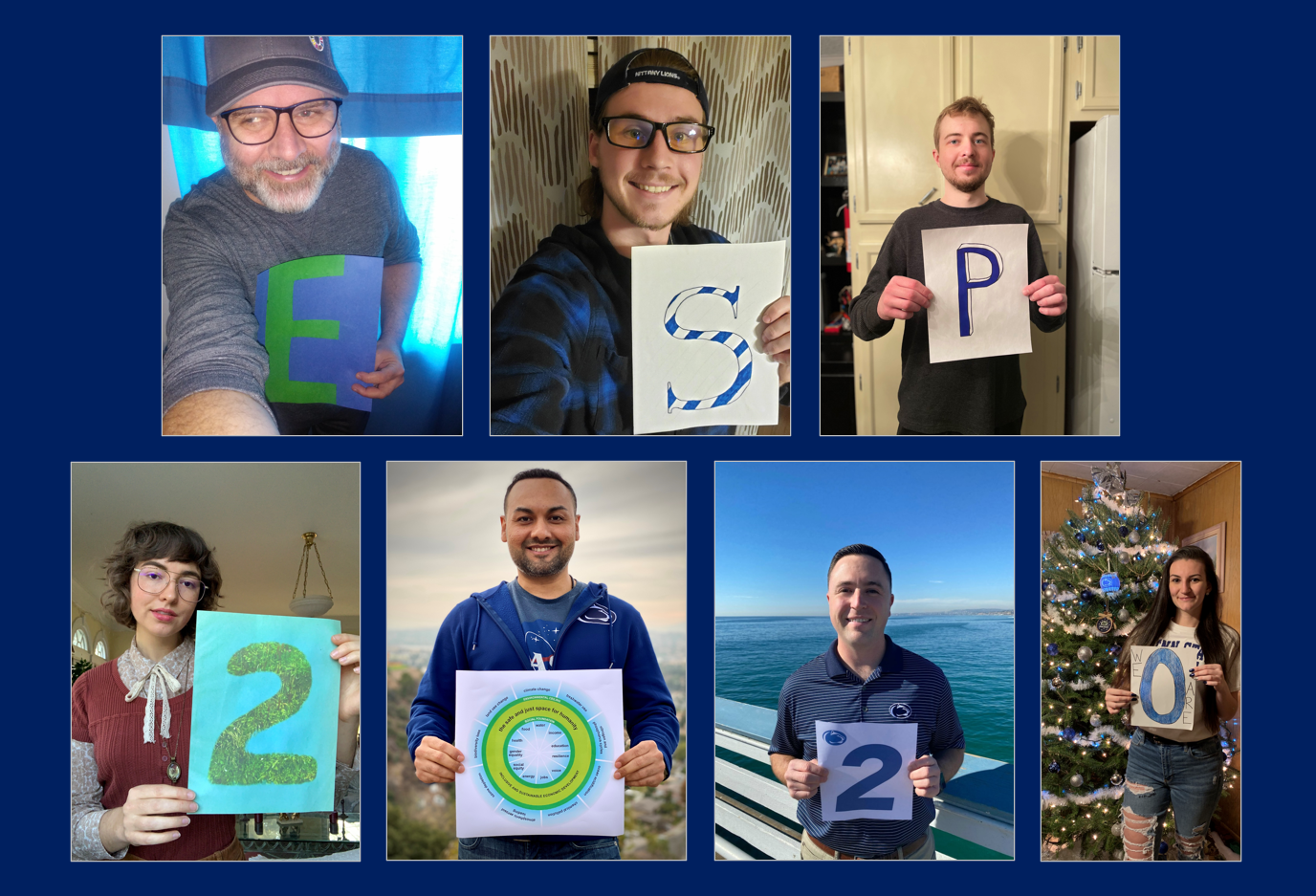 The Energy and Sustainability Policy graduating class of December 2020!

E - John De Montfort
S - Robert Deutsch
P - Lucas Skiba

2 - Christen Goeken
0 - Ronnie Gomes
2 - Jon Kearney
0 - Nikki Kline

(not pictured, Kenn Fowler)

With this group, we cross the line of having more than 100 graduates of the major since it began in 2010! We're excited to see all the great things these newly minted graduates go on to do with their hard-earned degrees.
---
Dear Students,
I hope you are doing well amidst the current situation with COVID-19 and are staying put, healthy, and positive! It is not an easy time for all of us – many people feel impacts from the pandemic, directly or indirectly. Many things we are used to at home, at work, and in our community have been disrupted, and that, understandably, creates a lot of anxiety. But I can assure you that the University works very hard at all levels to continue with its mission and to provide students with the best education and support.
As a World Campus program, ESP has everything in place to stay on track and to continue serving you through our online courses, advising, and communications to faculty. Our courses remain on schedule, and I encourage you to stay connected with your instructors and advisers about any issues impacting your studies.
The work you do right now to build your degree is as important as ever. The key issues of energy and sustainability are especially critical at this time as they are tightly related to our support systems, healthcare, communications, and everything that binds our society. You are working to become professionals in those key areas, and our ESP team is fully committed to helping you reach your goals.
Stay healthy, stay connected, and best wishes to you and your families!



-Mark Fedkin
ESP Program Lead Faculty
---
Program Information
ESPBA and ESPBS are both fully online degrees are offered by the Department of Energy and Mineral Engineering in the College of Earth and Mineral Sciences. The program is delivered by the College's Dutton e-Education Institute in cooperation with the University's World Campus.
The Bachelor of Arts and the Bachelor of Science in Energy and Sustainability Policy are both 120-credit programs, with the same General Education requirements and the same prescribed and additional coursework for the major. For a full listing of this common coursework, see Courses. The remaining requirements are specific to each degree, as described on the ESPBA and ESPBS pages.
All aspects of the program are carefully designed for online learners who require flexibility and are often managing full lives with career and family. Student advising is handled on a one-on-one basis, first-hand by faculty in the ESP program.
Both of the ESP programs' curriculum emphasize five competency areas:
Energy Industry Knowledge
Sustainability Ethic
Global Perspective
Analytical Skills
Communication Skills
In choosing which ESP program best meets your needs, students are encouraged to consider personal interests and strengths, professional aspirations, and plans you may have for graduate school. For those with prior learning experience, the applicability of earlier coursework to degree requirements may also be a consideration.